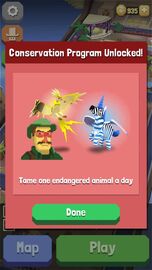 Endangered animals are a class of animal introduced in update 1.7.0. Every day, from Savannah 5 onwards, a new animal or the animal match, if the endangered animal has already been tamed, will appear in the stampede, and only one can be tamed/matched each day. They appear randomly like regular animals do, but are extremely rare, and all give maximum XP for their zone (30 for Savannah and Tundra, 25 for Jungle, Mountains and Outback). Once the match of an endangered animal is found and a baby is bred, the island which the endangered animal is from is "repopulated" with that animal, and consequently, that animal can be found in the stampede permanently.

All 2017 Chinese New Year event animals were reclassified to endangered animals after update 1.8.0 to allow players who missed the Chinese New Year event to obtain them.
There are no Space Zoo endangered animals.
Community content is available under
CC-BY-SA
unless otherwise noted.