KTplay is the social service inside Rodeo Stampede. It can be found in the menu in Rodeo Stampede.
About
KTplay is a social media channel which allows the player to post photos and videos, and view other people's posts. Usually, players post Rodeo Stampede related things. Occasionally, challenges and social events are hosted in KTplay. An "influence" system was implemented at an unknown date to improve the activity in KTplay, which is a points system where points are awarded for likes and follows given to the player who wishes to earn the points. A leaderboard ranking each user based on influence is also included.
KTplay also serves as the main notification service in Rodeo Stampede, as well as the place where players can receive rewards from social events or from compensation.
How to Access KTplay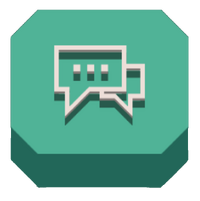 For iOS:

Go to the settings button from either of the zoos.
Below each of the wide blue buttons, there are an array of buttons. Click on the chat icon (shown right) to go to KTplay.

For Android:

The KTplay button is directly below the settings button. Click on it to go to KTplay.