Hello and welcome to Rodeo Stampedia! This wiki is the definitive source for information about Rodeo Stampede, so please keep up the high standard. Wikis are a place where people collaborate to gather information, so help from everyone is wanted and greatly appreciated. This is a help page for cowboys and cowgirls wishing to contribute, and provides general information regarding helping out. It is also the hub for all other help pages. For any questions, please don't hesitate to ask the main admin CollectorManiac. Guidelines are below.
Have fun sharing your knowledge!
Each person has their own knowledge which they can add to this wiki, and we would greatly appreciate if you could help out, providing that the guidelines below are followed. Rodeo Stampede is a game which requires some searching up, and currently, we are striving to become the ultimate complete source.
Follow Community Guidelines
Please ensure to stick to the community guidelines. If you choose not to, or do not read these and break one of the rules, you will be warned. If you continue to do so, you will be deemed as a disruptive user intentionally trying to cause harm, and will be blocked for a period of time considered necessary.
Use Source Editor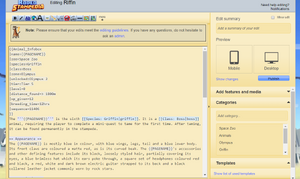 Source editor is a far better way of editing than Visual Editor, which (unfortunately) is the default editor for new users. Source editor allows editors to control the style and formatting of the page far better than Visual Editor. You can also perform a lot more actions using source editor, and makes wiki editing much neater.
It is highly recommended to use Classic Editor (source editor) as the default editor. Visual Editor is basically only good for changing basic text, and is bad for editing tables, infoboxes, templates and links. To do this, do the following:
Click on your profile in the top right corner (you must be logged in to do this)
A drop-down menu will appear, choose 'My Preferences'
You'll see several tabs in your preferences, choose 'Editing'
Select Classic Editor or Source Editor (both do the same thing)
For help with learning Source Editor, ask CollectorManiac and he'll be more than happy to help you out.
Guidelines for helping out
The information above gives general information that is essential to the wiki. More clarified information about specific ways to help can be found below.
Community Guidelines

Please read, these are the guidelines that must be followed to ensure that everyone can enjoy the wiki

Editing Guidelines

Guidelines for those wishing to help write articles

Image Guidelines

Guidelines for those wishing to help with adding images

Animal Images

Table to see which animals need images and what images are needed
Community content is available under
CC-BY-SA
unless otherwise noted.