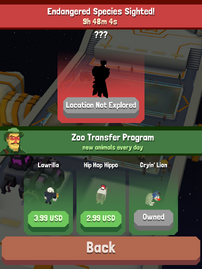 The Zoo Transfer Program is an opportunity for players who are missing regular or endangered animals to purchase these animals if they feel that they have no luck or have spent too much time trying to find them. These purchases require real money, and only appear if the player has internet connection and is missing regular or endangered animals. Rarer animals are more expensive; the most expensive animals are animals in tier 5. Players are also able to see the new endangered animal for that day in the Zoo Transfer Program.
Price of purchasing animals from the Zoo Transfer Program varies from country to country, however if these prices are converted, they are fairly similar compared to each country.
The man/mascot of the Zoo Transfer Program is a reference to Chuck from developers Featherweight's first game Skiing Yeti Mountain. This can be seen below.
Community content is available under
CC-BY-SA
unless otherwise noted.